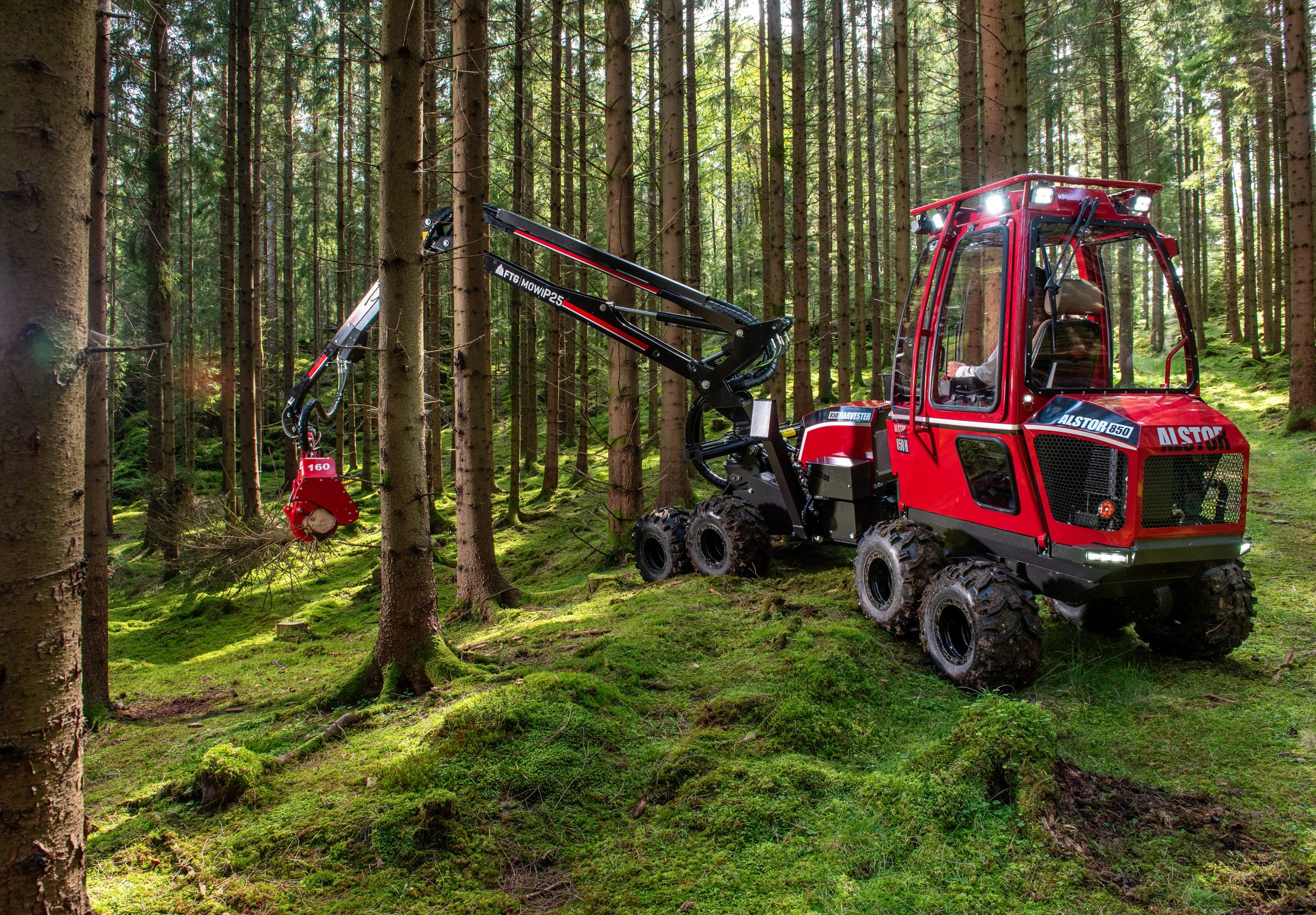 Information
The predecessor, the 840H, was Alstor's first clean harvester and quickly became popular with both forest owners and contractors. Thanks to its good performance and compact dimensions (70cm shorter wheelbase than the forwarder), it leaves perfect results in dense thinning with minimal ground damage.
With the Alstor 850H, we take the step towards a fully professional machine, built like a large machine but in a minimalist way to minimize complexity, maximize serviceability and operational reliability.
Driveline
.
With the Alstor 850H, we have worked hard to simplify and streamline the driveline to get more out of the engine and make the machine as easy to drive as possible.
The hydrostatic transmission is speed controlled which prevents the engine from being overloaded and maximizes traction versus engine power at any given time.
A traditional high gear is no longer available, but the machine always provides full traction when starting and the speed can then be adjusted completely steplessly 0-10km/h in both directions without stopping for changes. Permanent 8-wheel drive with the cardan means that you always have drive and brakes on all 8 wheels.
Lockable front and rear differentials provide significantly better turning radius in the woods than a rigid axle, while the ability to lock the differentials provides maximum passability in difficult terrain.
The machine is now equipped as standard with an automatic parking brake, which brakes the machine automatically when the drive pedal is released or if the engine is switched off.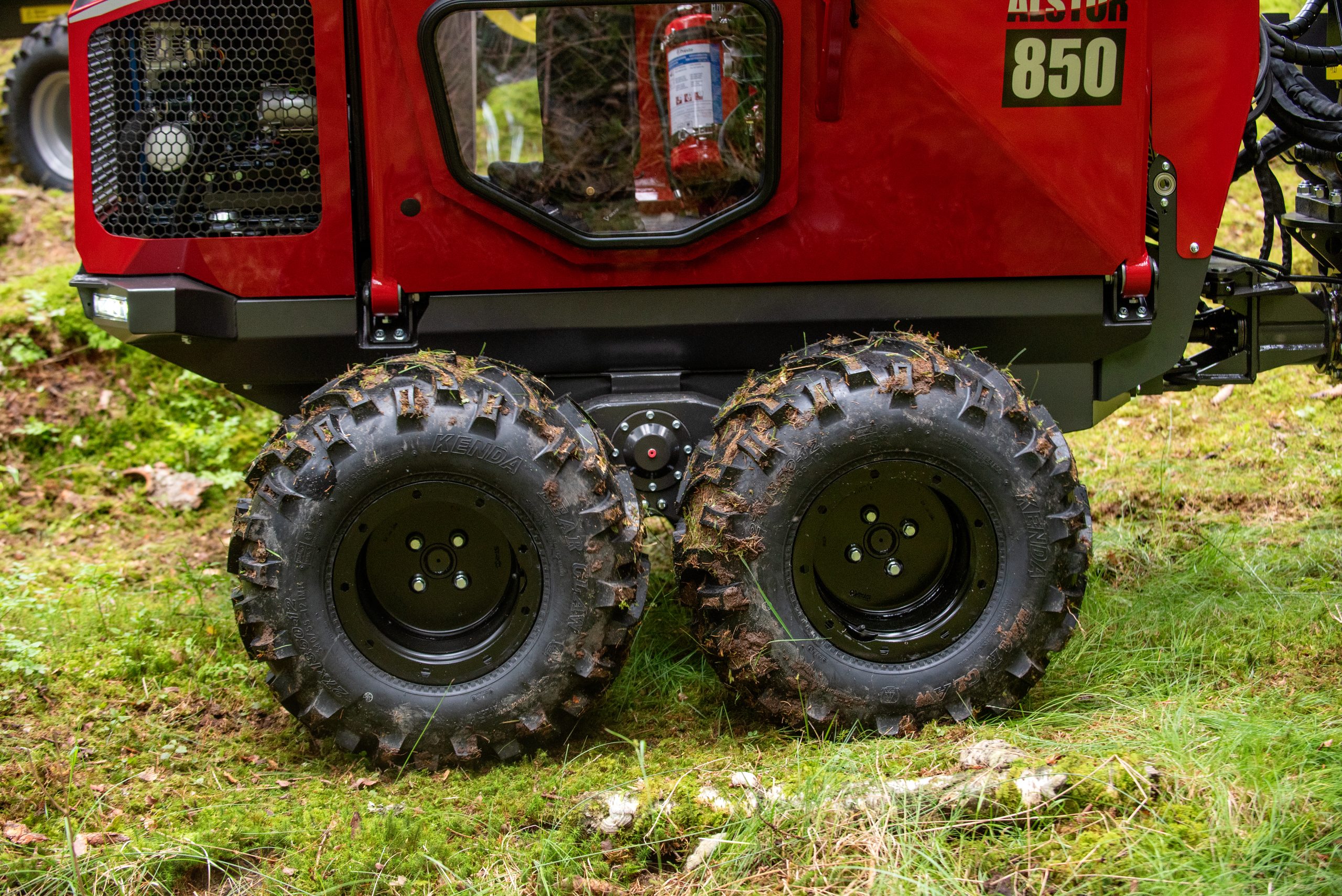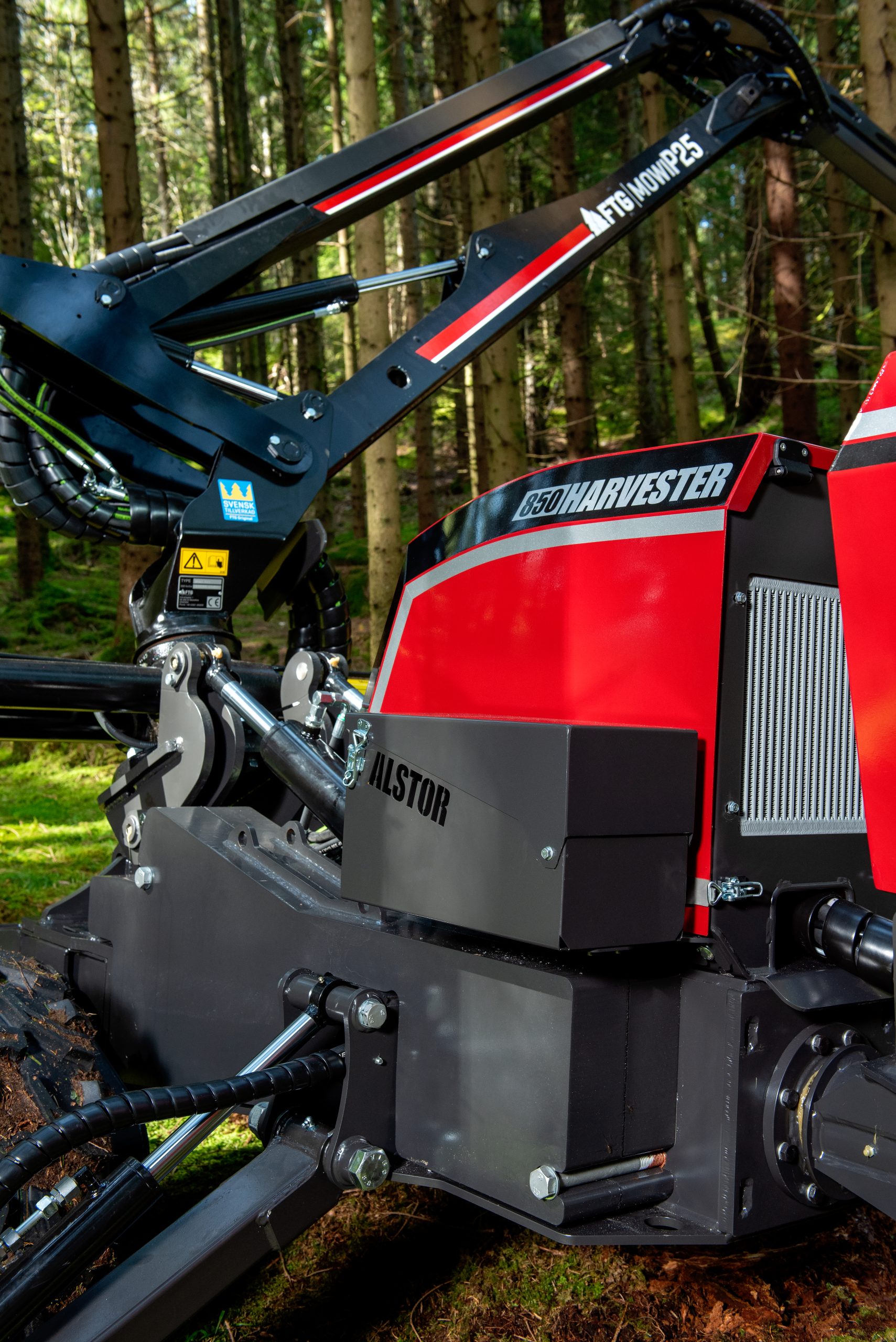 Rear
The rear of the machine comes from the 840H and is an appreciated and proven construction.
The substantial crane tilt of a whopping +25 to -12 degrees provides unparalleled accessibility and flexibility in the forest. The removable weights of a total of 920 kg give the machine fantastic stability when it is moved with trees in the unit.
The absence of a waist lock maximizes comfort in the cab, and the sturdy support legs provide maximum stability in difficult terrain if needed.
The crane is a Swedish-made Mowi parallel crane of 5.2 meters.
Ergonomics, driving pleasure and efficiency
A new power-regulated variable tap pump, which can provide up to twice the oil flow compared to the Alstor 840, is available as an option. This gives a crane feel that was previously only experienced in large machines where the functions can be run simultaneously at high speed without hindrance and also gives the harvester unit significantly better performance.
With our uniquely simple and efficient way of controlling the hydraulics, the full engine power can always be used by the function that needs it, whether it's propulsion, steering, crane or aggregate, without risking overloading the engine.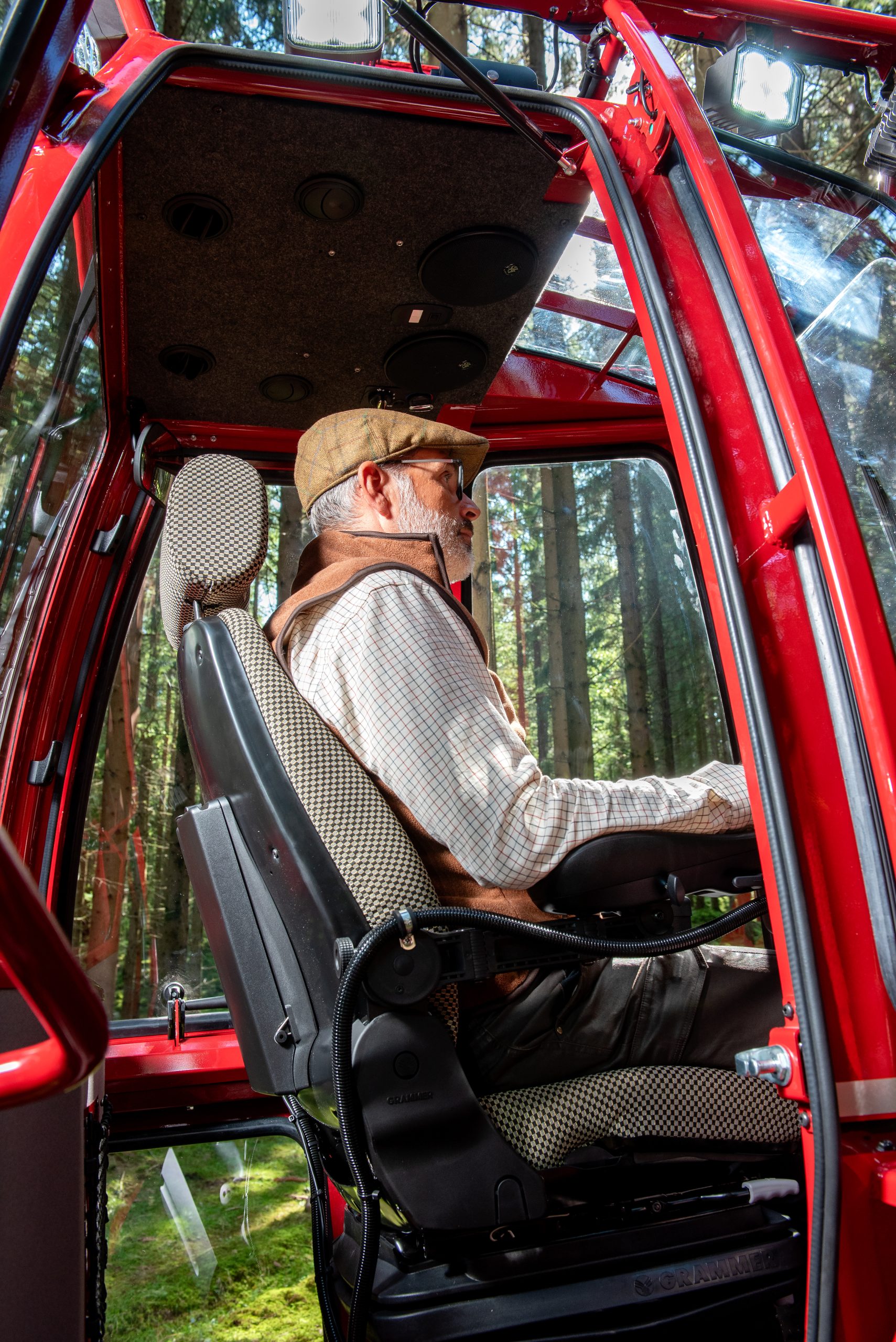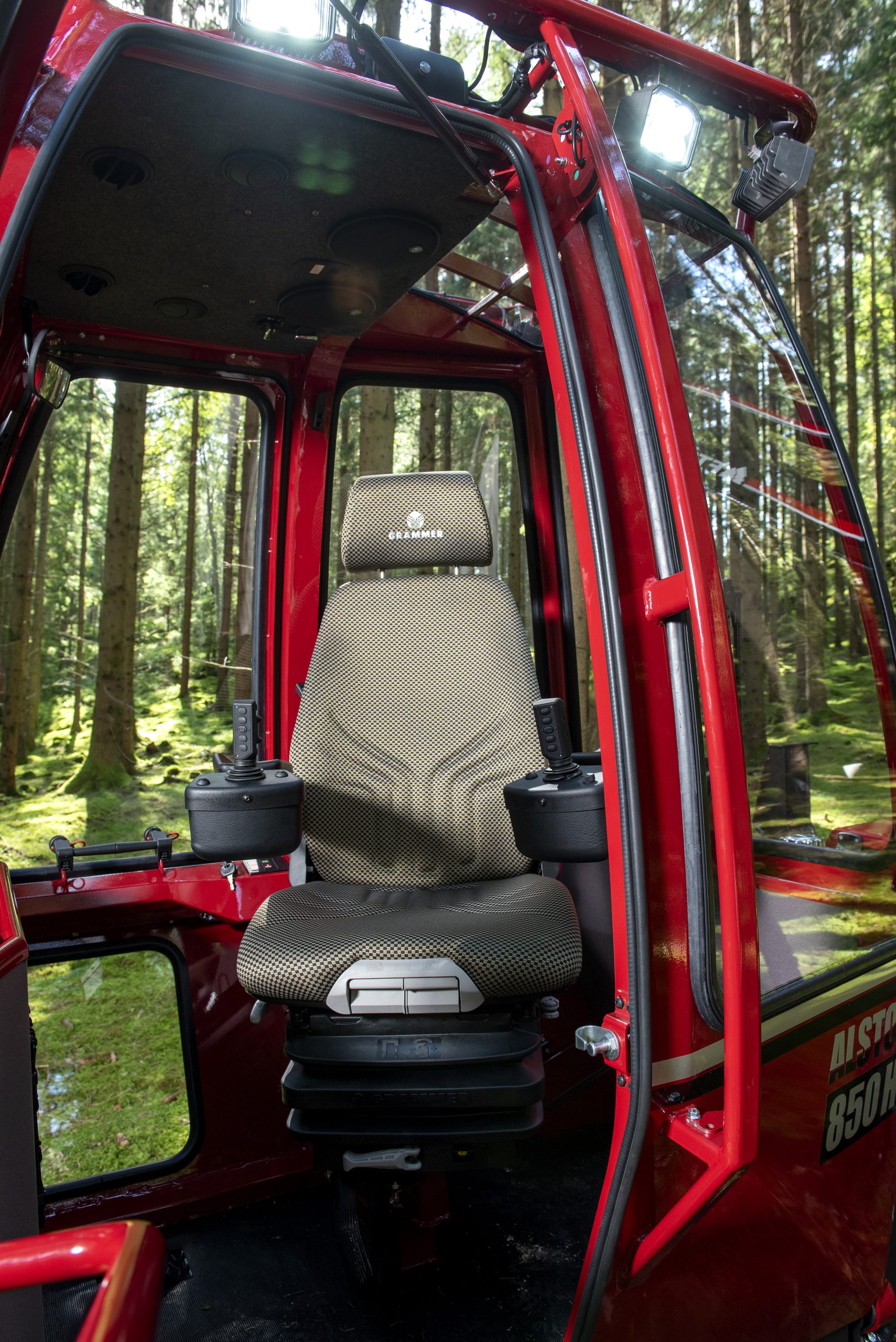 Cabin environment 
On the Alstor 850, mini levers and a new larger 7" touch display are standard. The entire machine, including the aggregate, is controlled by well-proven hardware from Parker. Alstor develops the software themselves in Parker's IQAN environment. This provides a maximally stable system while Alstor's unique code makes it possible to create advantages compared to our competitors, such as individual driver choices with adjustable ramps, selectable buttons, smart automation of the harvester unit, etc.
Regardless of the brand of machine you've driven before, you can now set up your driving environment exactly the way you want it.
The Alstor 850 aims at users who must sit 8 hours/day in their machine and is therefore the obvious choice in the forest both for self-employed forest owners and for full professionals.
The work environment in the new cab has a premium feel where the noise level and driver comfort have been taken to a whole new level. More legroom, better storage, significantly improved visibility, water-borne floor heating and the possibility of choosing a real professional chair are some of the advantages you will experience.
Low beam and indicators are now nicely integrated as standard.
Of course, our cab is ROPS/FOPS/OPS tested.
Operational reliability and ease of service
For the overall economy, service and reliability are an important factor. With the new front chassis and driveline on the Alstor 850H, we have minimized the number of components in the systems, both mechanical and electrical, so that the machine will be operationally reliable and easy and cheap to maintain in the long run. For example, we only have a transmission pump and a crane/aggregate pump with minimal hoses and valves from well-known manufacturers.
The fuel tank is now a full 70 litres.
There are no open chains or gear drives in the transmission, but everything runs in an oil bath for minimal maintenance.
The Alstor 850's tiltable cab makes all driveline components easy to access and all filters and drain plugs are now gathered under the removable belly plate for minimal spillage.
With Parker's system and Alstor's unique way of using the software, Alstor can easily connect remotely to the machine for lightning-fast troubleshooting and software updates.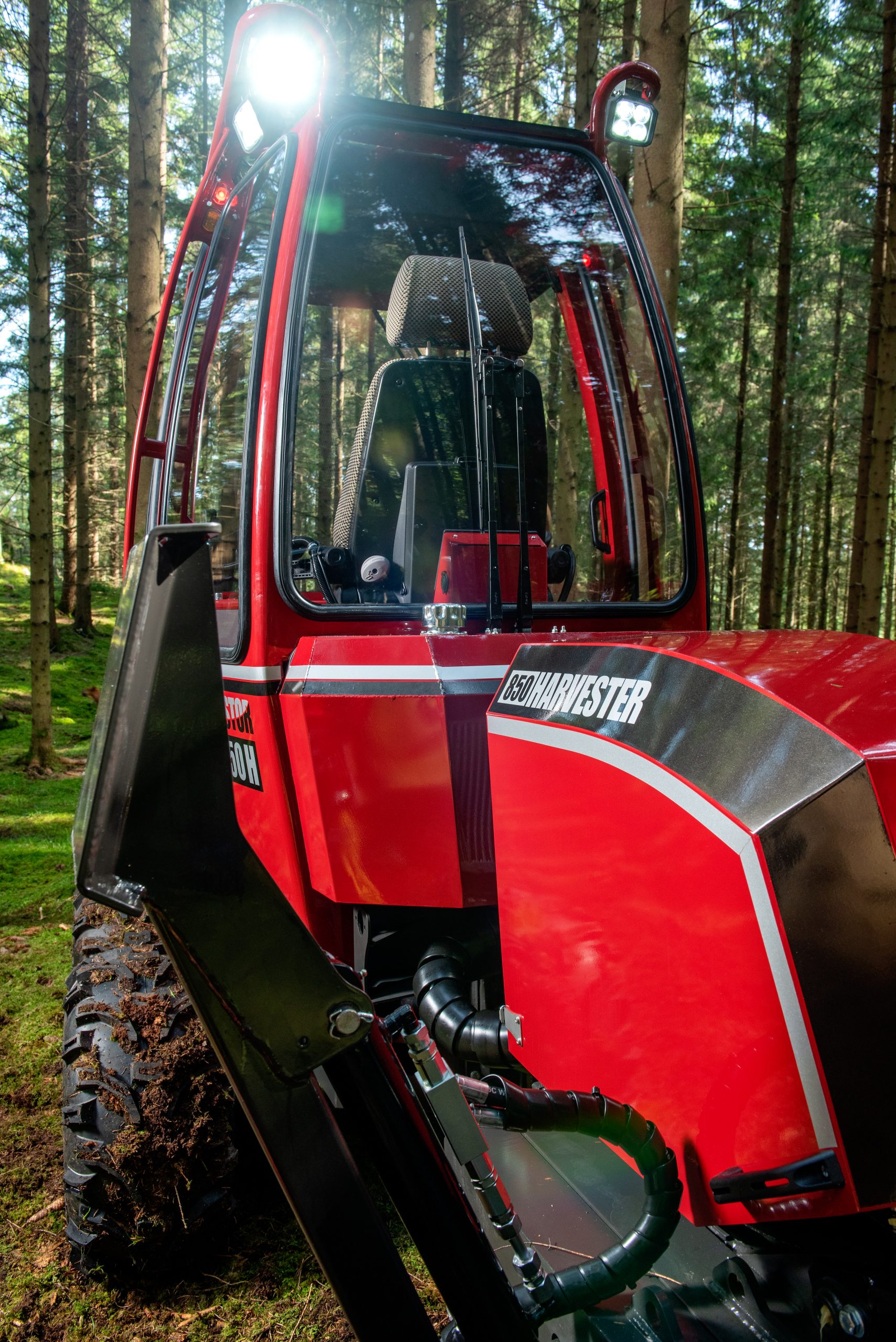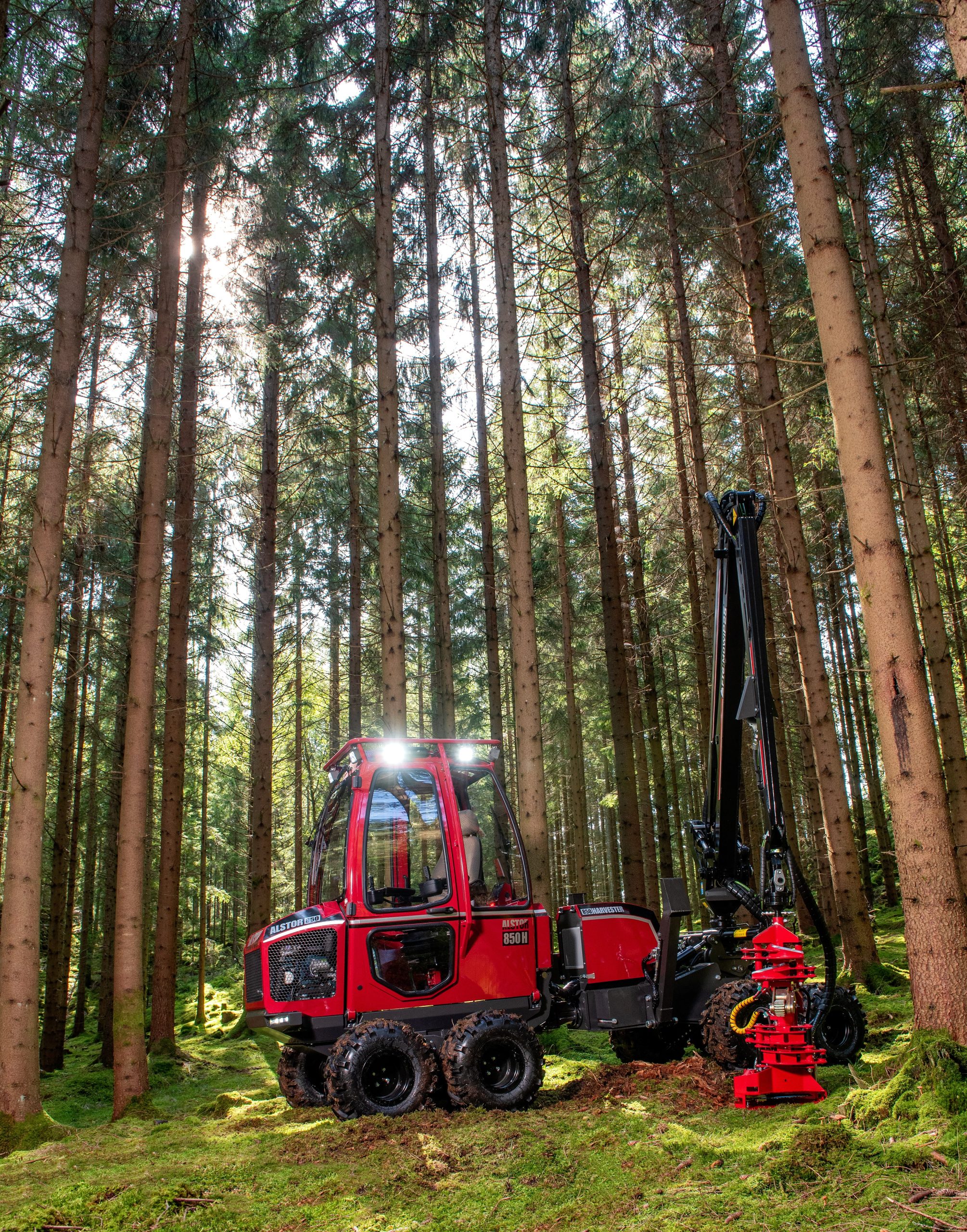 Technical specifications
Total length: 4.5 m
Width: 1.65 m
Service weight: 4000 kg incl. 920 kg removable counterweights.
Engine: Kubota 3-cylinder diesel, 25 hp
Fuel tank: 70 L
El system: 12V, Generator 60 A, 8 LED lights on the cab and overhead lighting. Driveline: Stepless hydrostatic transmission with speed control. Permanent 8-wheel drive with transfer case, cardan and lockable front and rear differentials. Bogie boxes in high-strength steel with chains in an oil bath.
Breaks: Hydrostatic 8-wheel brake and hydraulic automatic parking brake.
Deck: 27×13.5-12, 8-layer Speed: 0-10 km/h Crane options: Mowi P25 parallel crane 5.2m / 550kg lifting power.
Crane/machine control: Park electric proportional control via mini joystick in the armrests., double command.
Crane tilt: With working range of +25 to -12 degree angle.
Harvester unit: Tapio 160. Cutting diameter 25-30 cm. Weight 215 kg. Length measurement standard, diameter measurement optional. and proprietary software with many smart functions.
Working hydraulics: Gear pump 14cc, optional power-regulated variable hydraulic pump.